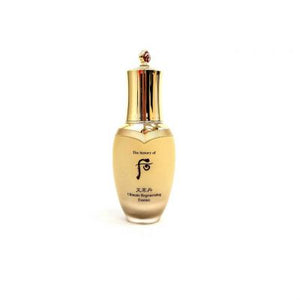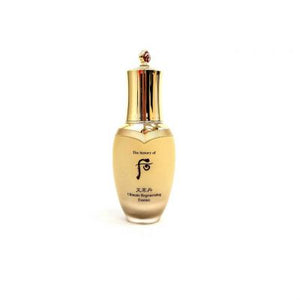 On Sale
[WHOO] CHEONYULDAN ULTIMATE REGENERATING ESSENCE (40ml)
Description
A highly concentrated oriental herbal premium essence with dewy absorption. HwaYul rejuvenating line has the powerful vitality of CheolPiSeokGok (main ingredient of Hwayuldan) to control environmental and behavioral aging. This highly concentrated essence penetrates into skin and adds moisture and radiance so the skin becomes smooth and supple. A soft, luxurious texture like silk quickly absorbs to skin and gives a firm, smooth and super soft finish.
– Firms and smooths skin with a soft, sensual texture that permeates widely in skin with a comfortable feeling.
Main Ingredients
– CheonGiBiDan: deer antler power and pearl shaped wild ginseng root improve skin tone and complexion
– HwaYulDan: a special formula developed though global joint research. The main ingredient of HwaYulDan is CheolPiSeokGok, a rare and precicous ingredient that grows in mystical environments.
Volume: 40mL / 1.4 fl. oz.
How To Use
After using Balancer, pump an appropriate amount and softly apply from the center of the face in outward motion. Gently cover the face with the palms of your hands to help the essence penetrate deeper into your skin.
Ingredients