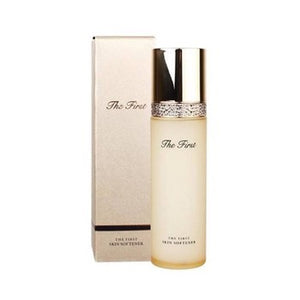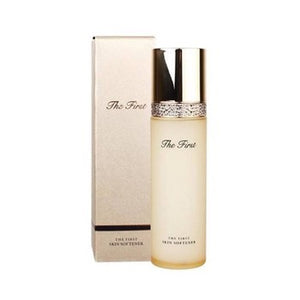 On Sale
[OHUI] THE FIRST SKIN SOFTENER (150ml)
Description
This nutritional softener adjust balance among skin layers to improve skin condition's at an optimum level for skin care. The thick texture of high viscosity with rich nutrition that hydrates skin for better absorption leaving an smooth and hydrating finish
The First – Source of Life Energy
1. Signature 29 Cell
Signature 29 Cell is the key active ingredient of The First Total Care and the essence of advanced skin invigorating ingredient of CHA Biotech. This exclusive ingredients of The First self-generates 29 kinds of actives ingredients of recombined stem cell culture fluid from inner skin and infuses energy into tired skin to revitalize.
2. Golden Remedy for Life Energy – White Peony
Concentrated energy of the strong life force of white peony that even blooms in sterile environment helps skin self-strengthen its vigor and protection power naturally.
3. Transkin EGF/hGH
Transkin EGF/hGH is an exclusive technology of The First to penetrate golden remedy of skin vitality, epidermal growth factor and human growth hormone, into skin five times deeper
How to Use
After cleansing, take an appropriate amount on the cotton pad or on palms and gently apply on the face in the morning and evening
Ingredients
WATER, ALCOHOL DENAT, DIPROPYLENE GLYCOL, GLYCERETH-26, GLYCERIN, 1,2-HEXANEDIOL, PROPANEDIOL, PANTHENOL, PEG-40 HYDROGENATED CASTOR OIL, PEG-60 HYDROGENATED CASTOR OIL, PHENYL TIMETHICONE, POLYQUATERNIUM-51, CARBOMER, ALGIN, TROMETHAMINE, FRAGRANCE, SODIUM POLYACRYLATE, TRISODIUM EDTA, PAEONIA SUFFRUTICOSA BRANCH/FLOWER/LEAF EXTRAC, SODIUM HYALURONATE, OLIGOPEPTIDE-1, OLIGOPEPTIDE-2, OLIGOPEPTIDE-3, OLIGOPEPTIDE-6, OLIGOPEPTIDE-4