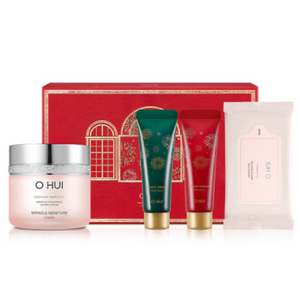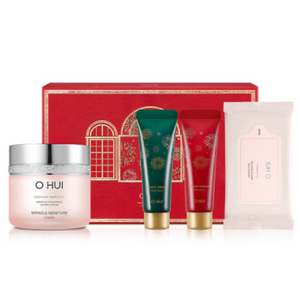 On Sale
[OHUI] MIRACLE MOISTURE CREAM SET (100ml)
Description
This Miracle Moisture Cream LARGE Special Set contains:
Miracle Moisture Cream LARGE 100ml
Delight Therapy Body Wash 40ml
Delight Therapy Body Lotion 40ml
Miracle Moisture Cleansing Sheet 5 pcs x 3 packs
Miracle Moisture Cream:
A moisturizing cream helps strengthens skin barrier with high moisture content. Improves skin condition by restoring transparency and smoothen skin texture with hydrating effect.
Concentrated chiffon ceramides helps to strengthen damaged skin moisture berrier. Intensive moisturising cream that gives moist and transparent skin.
How to use
Apply a moderate amount from inner to outer part of face and massage in a circular motion to absorb.