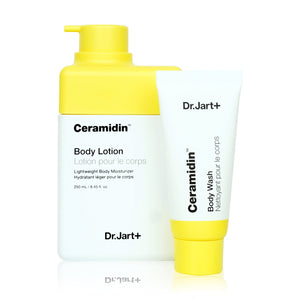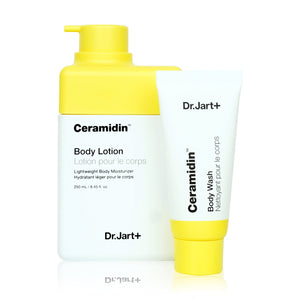 On Sale
[DR.JART] CERAMIDIN BODY LOTION (250ml) + BODY SHAMPOO (GIFT)
What instantly melts into your skin, moisturizes, and soothes, all without being sticky? This innovative body lotion. It contains ceramide, which strengthens the skin barrier while preventing moisture from evaporating. Plus, it features phytocide water and centella asiatica extract, skin-smoothing ingredients that also have a toning effect. And while its thicker consistency is great at retaining moisture, it doesn??¢t prevent your skin from being able to breathe.
Ceramide: Prevents moisture from evaporating, strengthens sensitive skin structure, and restores original skin condition; contains ceramide encapsulated in skin-friendly liposomes to maximize absorption.
Skin Renewal Complex (Vanistryl, Peptidesome, and Phytosterol): Supports the natural synthesis of collagen and firms skin.
Centella Asiatica Extract: Protects skin and provides a soothing effect
Suggest Use

Taking a sufficient amount of lotion, rub your palms together to generate warmth and apply on your skin in circular motions.