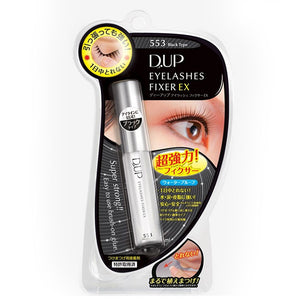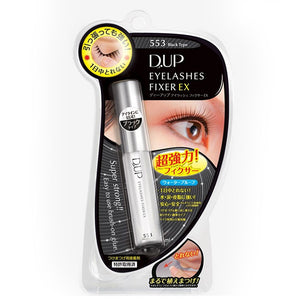 On Sale
[DUP] EYELASH FIXER EX 553 BLACK TYPE
Description
Super strong holding brush-on adhesive for false eyelashes made from medical grade adhesive. Loved by many famous models & makeup artists, and often seen in TV programs & magazines. Perfectly waterproof. Strong resistance to tears, sweat, and humidity. Lasts all day long.

How to Use
Cut the lash band to your size if needed.
Apply a small amount of D-UP EYELASHES FIXER EX 552 along lash band using the brush attached on the adhesive cap.
Wait for 30-60 seconds until the adhesives color changes from bluish/greenish white to clear. Make sure the adhesive is dry and tacking when you attach the false eyelash to your eyelid.
Tip: *If you attach the false eyelash before the adhesive has dried to a tacky finish, the false eyelash will not stick to your eyelid and easily fall off.
Apply the false eyelash right above your natural lashes.
Attach from the center part first and smooth out to both ends softly.
Press the false eyelash and your original lashes together gently to blend in and achieve a natural look.
When removing, gently hold the outer hair tip of false eyelash and slowly peel off from the tail of eye.
Store the false eyelashes in tray or case.
Ingredient
Acrylates/Ethylhexyl Acrylate Copolymer/Water/Tarox Iron Oxide BL-100