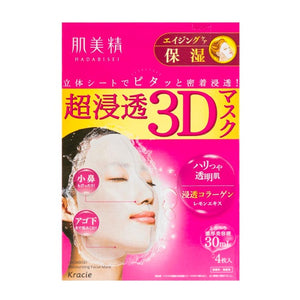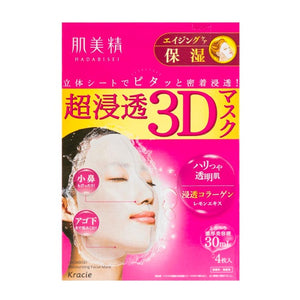 On Sale
[KRACIE] HADABISEI 3D COLLAGEN MOISTURIZING MASK 4 SHEETS
Description
KRACIE HADABISEI 3D Moisturizing & Anti-aging Mask is a soothing large facial mask that moisturizes and contains anti-aging properties for luminous skin. Penetrating mask is generously infused with 30ml of serum containing ingredients such as collagen, lemon extract and Vitamin C. Collagen helps to achieve firm and radiant skin and the keratin-softening agent, lemon extract inhibits melanin production which prevents dark spots and freckles. Three-dimensional sheet design enables closer adhesion to skin and enhanced penetration of ingredients for a supple and glowing complexion.

How to Use
1. Please use the mask after cleansing and toning your skin.
2. Take the mask out of the sachet. Align the openings in the mask over your eyes, then over your mouth. Smooth out the mask across your face to achieve total adhesion. (Serum might drip, please be cautious.)
3. Leave the mask on for 15 minutes (or up to 20 minutes if you have dry skin).
4. Remove the mask and massage the remaining serum into your skin.Recommended for use 1-2 times a week.

Ingredients
Water, 1,3-butylene glycol, glycerol, Trioctanoin, PEG-60 glyceryl isostearate, PEG-32, PEG-6, glycosyl trehalose, soluble collagen, pluvialis extract, soy extract, lemon extract, squalane, triglyceryl (caprylate / caprate), dimethicone, PPG-8 glycerides, PEG-5 glyceryl stearate , carbomer, potassium, sodium alginate, carrageenan, xanthan gum, hydrogenated starch hydrolysates, polyglycerol oleate -10, lysolecithin, polyethylene glyceryl stearate-10, EDTA disodium, phenoxyethanol, methylparaben