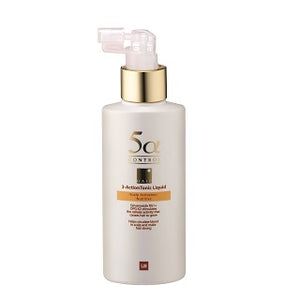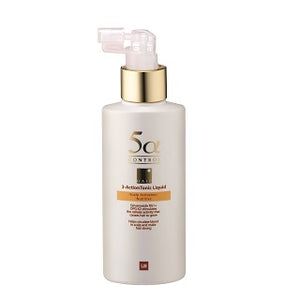 On Sale
[5@CONTROL] HAIR 3-ACTION TONIC LIQUID (150ml)
5 Alpha Control Hair 3-Action Tonic Liquid
● 3 major functions; prevention of hair loss, control of sebum for oily scalp, and scalp relaxation.
● Provides nourishment to scalp and hair roots with DPG-K2 and Ginseng extracts.
● Vitamin B6 derivatives control excessive sebum which is one of the main factors causing scalp problems and 
hair loss.
● Relieves stressed scalp with natural plant extracts
Ingredients
Di-Water, gingseng 90% ethanol extract, diotassium glycyrrhizate, butylene glycol, sodium phosphate,
salvia officinalis (sage) leaf extract, camellia sinensis leaf extract, aloe vera gel
Directions for use
Spray close to hair roots after shampoo and gently massage your scalp.
(can apply to both web and dry hair)
Recommended for
All skin types. 
Strongly recommended for hair loss prevention.